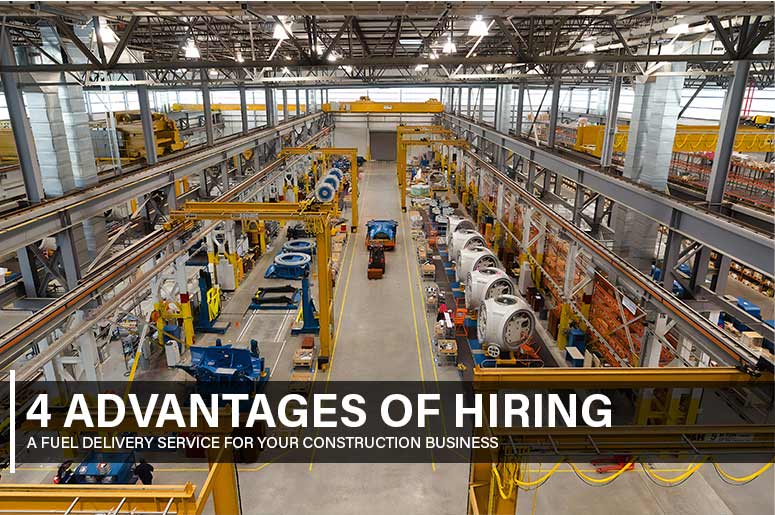 4 Advantages Of Hiring A Fuel Delivery Service For Your Construction Business
Refuelling is a constant need for any construction work. Whether you build homes, commercial establishments, or roads, fuel is vital to operate efficiently and maintain productivity. Without a means to quickly refuel your vehicles and equipment, your business could suffer losses in time and money. This is why you will need a strategic plan for fuelling. The plan will help you save time and money, as well as maximise your productivity. Your two main options will be to purchase fuel on an as-needed basis from a servicing station or to hire a fuel delivery service. Of the two, having your fuel delivered may be the best option for your company, especially if you require high amounts of fuel.
Fuel delivery means that your provider will bring the fuel to you, whether it is brought to your headquarters or on the job site. They will top up your storage tanks or directly fill the tanks on your equipment and vehicles. To give you a better idea of what you'll be paying for, here are the 4 advantages of hiring a fuel delivery service for your construction business.
1. Streamlined Refuelling Process
The time needed to locate gas stations, compare prices and making trips to refuel adds up to a large fraction of your business' operations that could otherwise be spent on other valuable tasks. With a fuel delivery service, the process of obtaining fuel will be more streamlined. You can avoid the hassle of travelling to a refuelling station and free up time for more productive pursuits. Moreover, if your construction business requires different fuel types such as diesel, gasoline, and propane for different machines, your fuel delivery service can provide them all. Furthermore, fuel delivery services can also simplify your budgeting and bookkeeping. You won't need to keep multiple receipts from every fuel purchase. You'll only need to refer to one single payment statement.
2. Lower Costs
Hiring a fuel delivery service is more cost-effective than buying fuel from a gas station. Since fuel represents a huge fraction of a construction company's operating costs, you'll need to manage fuel consumption and keep fuel costs as low as possible. And, because you can't reduce the amount of fuel needed to operate your equipment, you should look at another option of lowering your fuel cost. Hiring a fuel delivery service can do this for you.
Fuel is a commodity that goes through extreme price fluctuations with dramatic variations from week to week or month to month. In getting your fuel from service stations, you will need to deal with these fluctuations, and managing your fuel costs can be a nightmare. On the other hand, if you sign up with a fuel delivery service, you can enjoy consistent fuel prices, free from market price changes, for a long time or until your contract is up. And since you are getting a fixed rate, you can predict your company's regular fuel consumption rates and manage your operating costs accordingly.
3. Convenience
Contracting with a reliable on-site fuel delivery provider also offers convenience. They can deliver your fuel needs wherever and whenever it is convenient for you. This is especially helpful if you suddenly run out of fuel in the middle of a job or in emergencies. Most fuel delivery companies offer 24/7 deliveries. So, you can get the fuel you need right away and your operations can remain productive. You won't have to send an employee to refuel. Instead, you can just continue working while you wait for your fuel to be delivered. In addition, fuel delivery services are customisable to fit your needs in the best way possible. They will work around your schedule and consider your needs carefully.
4. Fuel Quality
By partnering with a good fuel delivery service company, you can also be sure that you are getting high-quality fuel. They value your business and will only offer the best products to satisfy your needs. Fuel delivery services work with many construction businesses and will know how to address all your needs and requirements. They can provide you with uncontaminated fuel to keep your equipment in optimal condition. You are not just enjoying fixed priced rates, but also getting the most value for your money. Beyond that, if you have fuel tanks on-site, they can help make sure that your fuel will be stored properly and safely.
With these 4 advantages of hiring a fuel delivery service and more, partnering with a reputable fuel delivery provider can take your business further. Not only are you saving time and money, but also getting a more efficient way of managing your fuel and operational expenses.
Sign up with WA Refuelling Services to enjoy these benefits. We will gladly assess your needs to offer a customised plan that will best suit your business. Our company shares your goal of maximising productivity and eliminating wasted time and you can rely on us to consistently meet your needs as quickly as possible. We also offer the best fuel tanks Australia, following local fuel tank regulations in your area. To learn more about our products and services call WA Refuelling Services today on (08) 9359 1988.