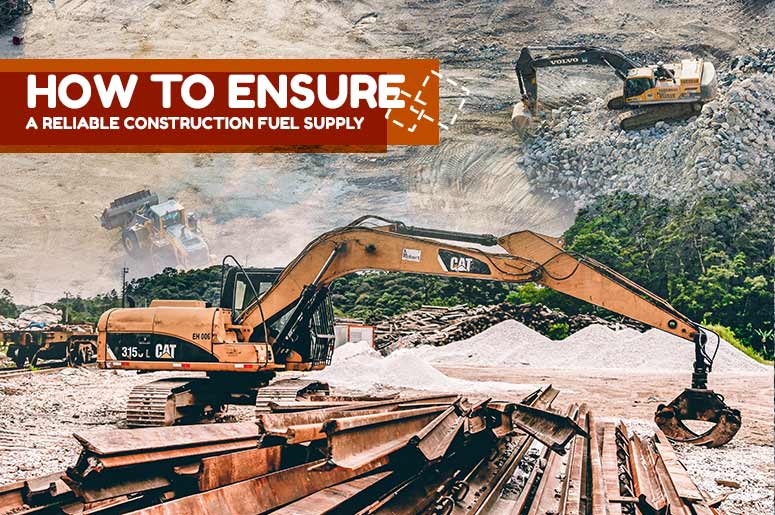 How To Ensure A Reliable Construction Fuel Supply
Consistent and reliable fuel supply is critical when operating a construction business. You cannot afford to shut down a job site and waste time sending your employees to a gas station every time you are low on gasoline or diesel fuel. Time lost could mean a significant loss of revenue and failure to meet project schedules. It could also cause dissatisfaction and bad feedback from your clients. If you want a steady construction fuel supply, here are some options you should consider.
On-Site Fuel Delivery
Construction work almost always happens in multiple locations. They could also happen in city centres or in remote locations. And, when construction happens far from service stations, refuelling can become a major issue. One way of ensuring adequate construction fuel supply is to have it delivered to each one of your job sites.
On-site diesel fuel delivery allows you to get the fuel you need faster and safer. So, you can keep your business running and avoid costly trips and downtimes. It is also less prone to fuel theft because you have control over when and where fuel will be delivered. The fuel provider will refill your equipment, vehicles, and storage tanks onsite. This way, you can focus your attention on the construction work being done. However, onsite fuel delivery can be more expensive. You need to carefully weigh your options and find the right provider who can offer affordable rates with quality service.
Bulk Fuel Delivery
If you need larger amounts of fuel to be stored onsite, you will require bulk fuel delivery. Much like onsite fuel delivery, this option involves the fuel provider delivering fuel to your location. However, with bulk fuel delivery, your supplier will deliver fuel to your storage tanks instead of directly into your vehicles and equipment. You can tailor your deliveries according to your general fuel needs and get a fixed and cheaper price. Bulk fuel delivery makes managing your fuel expenses easier and, if you need any additional fuel, you can place separate orders. But, since fuel storage is highly regulated, this option is only viable if you already have compliant fuel storage tanks onsite. If you don't own one, your fuel provider might also offer fuel tank hires.
How to Choose the Best Option for a Reliable Construction Fuel Supply
Both onsite fuel delivery and bulk fuel delivery have their own advantages and limitations. If you're not sure about which one will work best with your construction business, here are some tips that could help you decide.
1. Identify Your Needs
Knowing your fuel requirements is essential in choosing the right refuelling option. You need to know how much fuel you usually require in every construction project and how much fuel you can hold on-site. You should also consider whether or not you have the space for a fuel tank and if you can handle the maintenance work it requires.
2. Determine The Type Of Fuel You Need
If you use different types of fuel to power your heavy equipment and vehicles, an on-site fuel delivery service might be more convenient. You can't have multiple tanks on every job site to accommodate all your fuel needs. This is why most construction companies use diesel for most of their machines. This allows them to store fuel in bulk and manage their fuel consumption better.
3. Consider Ease Of Monitoring
Monitoring your fuel is essential in managing your company expenses. Among the two options, find out which way will help you track your fuel usage better. Recognise your unique challenges and think about what kind of fuel delivery service will make things easier for you. Whichever option you choose, make sure it won't simply help you manage your finances, but also allow you to easily detect safety concerns and cases of fuel theft.
4. Find A Dependable Fuel Supplier
When finding fuel solutions, you need to partner with a dependable fuel supplier. Make sure they will do the job they've committed to doing so you can avoid further problems and delays. Also, choose a fuel supplier that can offer fixed-price contracts and flexible refuelling schedules. They should also be able to provide emergency fuel delivery services for unexpected events and catastrophes.
If you are searching for the right solution for your construction fuel needs, talk to our friendly industry experts at WA Refuelling. We offer onsite and bulk fuel delivery services that can benefit your construction company in the best way possible. We can also provide law-compliant self-bunded tanks, for sale and hire. To learn more about WA Refuelling and how we can help optimise your construction business, contact us on (08) 9359 1988.