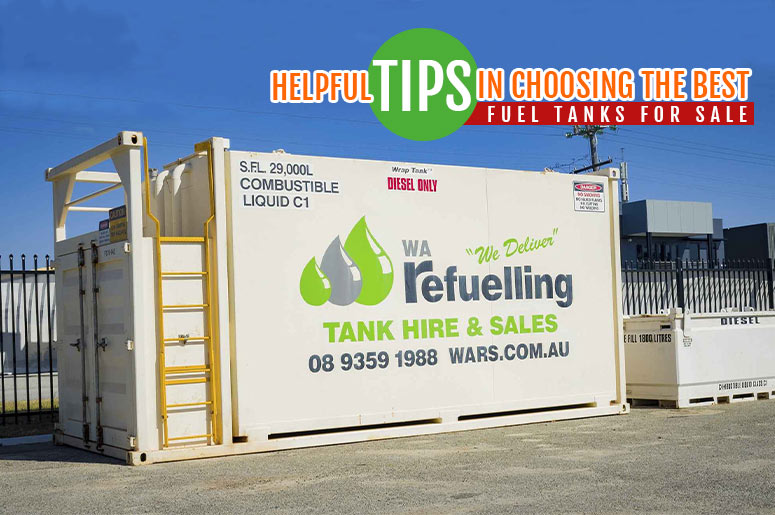 Tips In Choosing The Best Commercial Fuel Tanks For Sale
There is a wealth of advantages in storing your fuel on-site. Having a reliable fuel storage system allows you to buy fuel in large quantities and bulk pricing. It also saves you frequent trips to a refuelling station so you can focus on completing your work. Moreover, it lets you keep track of your consumption and help you manage your expenses better. However, with the many fuel tank options available today, picking the one that's best for your business could get challenging. If you have previous experiences in purchasing fuel tanks, it might be less daunting for you. But, if you are unsure about which tank to buy, here are tips to help you find the best commercial fuel tanks for sale.
1. Determine Your Fuel Storage Requirements
Keep in mind that what's best for other companies might not be the best for yours. Just because a certain type of fuel tank for sale is popular, doesn't mean it will be suitable for your needs. Before making your purchase, be sure to understand your fuel storage needs first. Determine how large you need your fuel tank to be. You can do this by finding out how much fuel your operations need in a specific period. You also need to think of your space and make sure you have a good place to set up the fuel tank. Furthermore, consider your usual refuelling schedule and if your tank needs to be relocated in the future. Knowing and understanding your needs when buying a fuel tank, you will have a better idea of what to look for.
2. Find Out Local Regulations
Different parts of Australia have different laws and regulations that apply to fuel storage in their localities. The rules are put in place to ensure the safety of both the citizens and properties in proximity to highly flammable liquids. You need to follow these guidelines on how and where you should install your fuel tank and how to properly maintain it. Also, follow correct measures to prevent leaks and safety procedures around your storage site. This will keep you from being obligated to pay hefty fines for fuel misconduct. If you are planning to install a fuel tank on-site, it is important to know what is needed for compliance in your business location. Make sure you work with a distributor who can offer you law-compliant fuel tanks.
3. Compare Market Prices
Although buying a good fuel tank might be extremely necessary for your business operations, you still have to be wise about spending your money. Check out different types of fuel tanks to find the best one for your needs. If you don't need the advanced features that make a fuel tank expensive, choose a lower-end fuel tank with the basic functionalities. After choosing a specific fuel tank, check multiple distributors to get the best price for the same product. Furthermore, it also helps to weigh in additional services such as delivery fee, installation, and warranty. Just bear in mind to never compromise quality and convenience whilst getting your money's worth.
4. Check Product Reviews
Another way to ensure you pick the best commercial fuel tanks for sale is to check product reviews. You can visit your chosen distributor's website or other relevant online platforms for feedback on their products and services. This way, you gather information on how reliable the product is and what drawbacks you can expect from your purchase. It's also helpful to ask an expert's suggestion of what fuel tank will work mostly with your business. Read reviews for at least three distributors before you make a decision. You have to know you are getting a safe and reliable fuel tank before you allow them in your business premises.
Wa Refueling Offers Reliable Fuel Tanks For Sale
Aside from fuel delivery and refuelling services, WA Refuelling can also help you with your fuel storage needs. We can offer a variety of fuel tanks of different sizes and capacities. We will gladly share our experience and expertise to help you choose the fuel tank that will meet your storage requirements. Call us today on (08) 9359 1988.