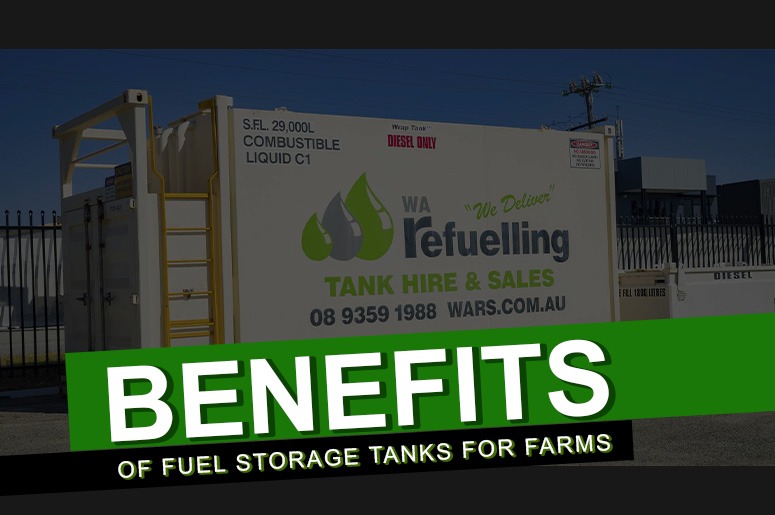 It takes a lot of planning, patience, and hard work to run an agricultural business. In order for your farm to thrive, you need to have adequate people and the right equipment that will keep your daily operations running smoothly and productively. And, to continually use your farm equipment, the best thing you can do is to store large amounts of petrol or diesel fuel on the farm. However, storing fuel on-site poses many health and environmental risks. A great solution for avoiding fuel-related hazards is to purchase a safe and efficient fuel storage tank and this is when the benefits of fuel storage tanks for farms come in.
Buying a fuel tank can help you by providing a safe and easy means to access all the fuel your farm requires. It allows you to quickly refuel your tractors, generators, vehicles, and other farm equipment. However, fuel tanks do not come cheap. If you are undecided about adding a fuel storage system to your property, here are its advantages that might help you lock in on your decision.
1. Provide Safety
The most important benefit of having a fuel storage tank in farms is safety. Fuel is highly flammable and can catch and spread fire to your entire property in a matter of minutes. And, in a farm, where most goods and structures easily burn, you could lose a hefty amount of product and investment, not to mention cause harm to workers and yourself. That is why your fuel needs to be contained in a specialised storage location, where it cannot easily spill out or leak through. By purchasing a fuel tank, you can store high amounts of fuel without endangering the people, crops, and structures on your farm. Moreover, you can also avoid causing damages to neighbouring properties and the environment.
2. Save Costs
Another advantage in buying farm tanks for fuel is to save money. Although the costs of purchasing, installing, and maintaining a fuel tank may seem like a big investment, you actually save money in the long run. Because you don't need to refuel off-site, you will be able to save on transport costs. And, since fuel tanks can securely contain fuel, you won't have to worry about your investment going to waste. Moreover, having your own refuelling system will allow you to keep track of your farm's fuel consumption and better manage your business expenses. Furthermore, the time usually spent on refuelling is reduced, freeing your employees to do more productive and profitable tasks on farm.
3. Increase Productivity
In any business, time is as valuable as money. Being able to manage time wisely can mean better productivity, which will bring your business forward. By having a fuel storage tank on farm, you eliminate the need to visit off-site fuel service stations and quickly finish the refuelling process on site. As a result, you'll have more time to focus on the more pressing tasks on-site and run your business more efficiently. Further along the road, with the accumulated time you've saved and used for more productive work, you can expect to see more profits than if you continued making trips to refuel.
4. Maintain Fuel Quality
One of the things that can affect the performance of fuel-powered vehicles and equipment is the quality of fuel being pumped in. Since farm pieces of equipment are expensive and vital to your farm's day-to-day operations, you need to make sure they will continue to operate properly. If one of your tractors is not working, your day's yield will significantly decrease, meaning you lose time and money. By having a durable fuel storage tank on-site, you can be sure that your fuel is free from contaminants. Therefore, they will help your equipment to run properly, instead of causing problems in its engine.
If you are looking for a safe and effective way of refuelling your farm vehicles and equipment, getting a reliable fuel storage tank can be a game-changer. With these benefits of fuel storage tanks for farms, you can help your business become more productive while keeping your investment and the environment safe and far from harm. However, make sure to buy and install a fuel tank that complies with the local on-farm fuel storage regulations in your area. Failing to comply with these laws could result in hefty fines and liabilities.
To find the best fuel storage system for your farm, partner with WA Refuelling Services. Our years of experience and unparalleled expertise will help you get the most suitable petrol or diesel storage tank for farm use to suit your fuel requirements. We offer above-ground petrol and diesel fuel storage tanks, fuel delivery services, and other products that will ensure that your business will run as flawlessly as possible. For more information on how we can help further your business, call WA Refuelling Services today on (08) 9359 1988.