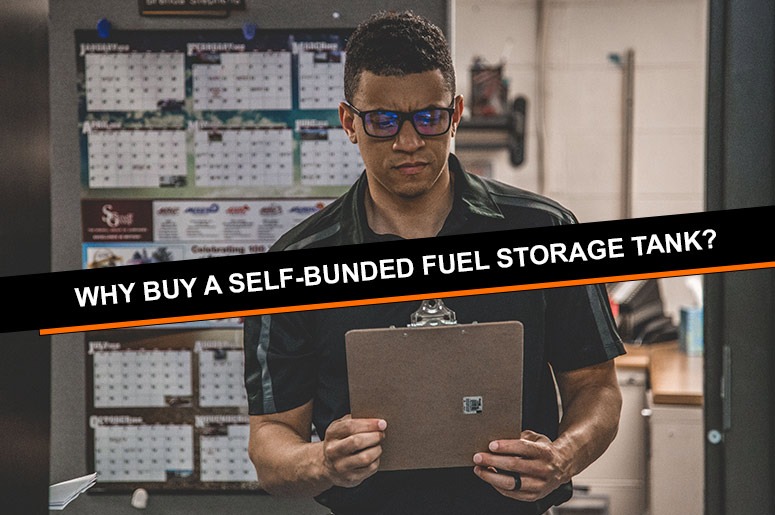 If your business requires you to store large amounts of fuel on-site, then it only makes sense for you to purchase a fuel storage tank. Without a proper storage system, fuel could easily spill and spread on your property, causing harm to structures and people. More than leading you to costly damages and hospital fees, you might also be held legally responsible for damages to the environment and nearby properties. Because of these horrendous consequences of improper fuel storage, you need to make sure you get the most reliable fuel storage tank available.  So, one would still question, why buy a self-bunded fuel storage tank.
Choosing the right fuel tank will depend on the nature of your business and the location of your facility. However, there is a tank that can serve a variety of purposes, without compromising safety and efficiency. In this article, we will talk about the self-bunded fuel storage tank and why it is a great investment for your business.
Why Buy A Self-Bunded Fuel Storage Tank?
With all the options for fuel storage out there, why buy a self-bunded fuel storage tank? A self-bunded fuel tank, also known as a double-walled tank, has an inner and outer tank. And, in between the two walls is a space that has the capacity of 110% of the inner tank. This gap is responsible for catching leakages and spills, which results in lesser chances of contamination or loss of product. Because of its design and structure, it can offer the following advantages:
1. Cost Savings
Probably the main reason you should buy a self-bunded tank is for cost savings. Because a self-bunded fuel tank is already double-walled, it is easy to set up. There's no need to build an external bund, which is a big requirement for setting up other tanks.  You get to save money by not needing to pay for specialist civil engineering, construction materials, and manpower. And, because your fuel is securely contained in the tank, you won't have to worry about a loss of investment and lower your fuel expenses over time.
2. Versatility
A self-bunded tank can be used to store a variety of liquids. It is suitable for fuel, diesel, petroleum, and oil. It is also easy to relocate with its drop-and-go feature. You can take it with you as your projects change locations. There are also smaller portable self-bunded tanks that can hold up to 10,000 litres, which you can easily bring to remote areas. This flexibility not only offers convenience but also offers cost and efficiency benefits. You will be able to avoid transportation costs for refuelling offsite and have more time for productive tasks.
3. Compliance
Buying self-bunded tanks helps you comply with Australian environmental regulations. Its body and components, including valves, pipes, pumps, and hoses are designed to withstand most external pressures that can cause soil or water contamination. As a result, your operations can run smoothly, no harm will come to the environment, and you won't be charged excessive fines.
4. Maintain Fuel Quality
Unlike other tanks, self-bunded tanks provide access for maintenance. You can easily keep it clean and in its best condition. This means your fuel will also stay fresh for longer and your vehicles and equipment will function correctly. Consequently, your business can maintain its momentum and meet daily demands with minimum downtime.
5. Security
Fuel translates to money in business. Every litre you use is part of your expenses, which means it is important to manage it wisely. Before buying fuel in large quantities, you need to make sure you can keep it away from internal or external theft. A self-bunded fuel storage tank comes with two layers. So, you can be sure that your fuel will remain safe from opportunists and thieves. You can also add features that will help you closely monitor your fuel usage and check if it is being stolen.
With all these benefits, it's easy to see why many people buying self-bunded fuel tanks. With so much to think about in your business operations, you need a tank that will help simplify things and lessen your worries. If you want to know more about fuel tanks for sale, get in touch with our experts at WA Refuelling. We provide bulk fuel for different types of businesses and will help you find the best fuel storage solution that will fit your immediate needs. If you want to work with a reliable fuel partner that also has the best fuel tanks in Australia, call WA Refuelling today.