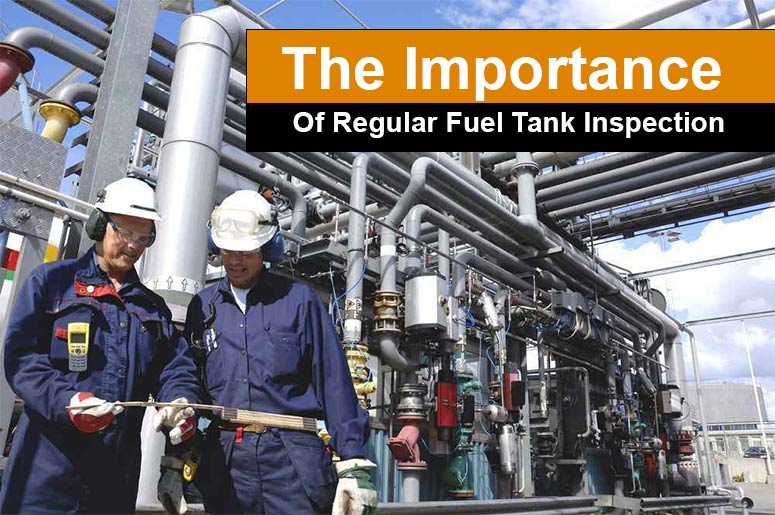 The Importance Of Regular Fuel Tank Inspection
Fuel storage tanks are an essential part of modern industry. If your business relies on diesel or petrol-powered equipment and machines, investing in a fuel tank is a sensible choice. It provides a safe and efficient storage area for bulk fuel and allows you to save time and money. However, ensuring safety and efficiency does not end with buying a tank. It also includes implementing a strict fuel tank inspection and maintenance routine. In this article, we will talk about the importance of regular fuel tank inspection and the right steps you can take to keep your fuel tank in optimal condition.
Why Is It Important To Regularly Inspect Your Fuel Tank?
1. Prevent Hazards
Regularly inspecting your fuel tank for cracks, thinning of its walls, corrosion, and bad welds helps prevent dangerous fuel leaks and hazards. Without regular tank inspections, these things will go unnoticed and worsen until they become expensive to repair or uncontrollable. Even the tiniest tank damages can grow bigger and lead to leaks. And when fuel leaks or spills out of the tank, it becomes a danger to people and the environment. By spotting these maintenance issues early on, you can make the appropriate rectifications and prevent horrific events. You also prevent costly repairs and tank replacements, which could affect your daily production and the success of your company.
2. Extend The Tank's Lifespan
Periodically checking the status of your tank can make it last longer and be more reliable. Any tool or equipment, when properly cared for, is guaranteed to have more useful years. You can depend on it to function properly and preserve the quality of your fuel. Also, purchasing a fuel tank does not come cheap. More than its upfront price, you also pay for delivery, installation, and maintenance costs. Because regularly inspecting your fuel tank can extend its lifespan, you'll be able to get the most value out of your investment.
3. Protect Your Property And Employees
When a fuel tank is regularly checked and maintained, it will meet industry standards and save your company from liabilities. This is an important factor in taking your company forward. Moreover, since you follow safety regulations, you can also protect your facility and employees from fuel-related dangers. By keeping your tank in good condition, you eliminate the risk of liabilities and property damages, while looking after the welfare of your employees.
How to Conduct Fuel Tank Inspections
When inspecting your fuel tanks, there are two tests you need to conduct, the fuel sample test and the fuel tank integrity test.
Fuel Sample Test
A fuel sample test needs to be done at least once a year by a qualified professional. It involves checking if there is water inside your tank. Since water is heavier than water, it will sink to the bottom of the tank. And when the water has contaminants in it, it can result in rust and other corrosion. Also, water causes the biodegradation of fuel and decreases the power of engines over time. And, when engine power declines, it can lead to dangerous and serious issues, including engine failure. Your vehicles and equipment will become inoperable, rendering your company unable to perform properly.
Fuel testing is important to make sure your fuel remains free from contaminants. In a fuel test, samples will be taken from the top, middle, and bottom of the tank. If water and particulates are present, they will appear in the bottom sample. The middle sample will be the measure of the degree of settlement of any contaminants. And, the top sample will indicate the achievable fuel condition once it is polished.
Fuel Tank Test
This test is done by checking the integrity of your fuel tank. This pertains to a visual inspection of the outside of the tank for signs of corrosion, discharge, accumulation of fuel, and signs of deterioration. The visual inspection should be done around the entire tank, including its base and support structures. Frequent checks are ideal in making sure the integrity of your tank is not compromised. With not much activity around the tank, you can also conduct this test monthly, or every few months. However, make sure to inspect your tank if you notice spills, irregular smells, and right after storms and heavy winds. The age, location, and design of your tank are also something you should consider when determining how often you need to conduct fuel tank testing.
Maintaining the tanks regularly is essential for avoiding equipment failure, expensive repairs, or even a fire or explosion hazard. Never take the importance of regular fuel tank inspection lightly and, as soon as you find any cause for alarm, call your fuel delivery or fuel tank supplier right away. Never wait for a small issue to blow up and create a large problem for your company and employees. Keep in mind that it's always best to be safe than sorry, so make sure your fuel is stored properly and safely.
Get the best fuel tank that can ensure safety and efficiency at WA Refuelling. We offer a variety of fuel storage tank options to help you find the best tank to match your needs. We also offer fuel delivery services and other products that can help your business run most safely and productively.