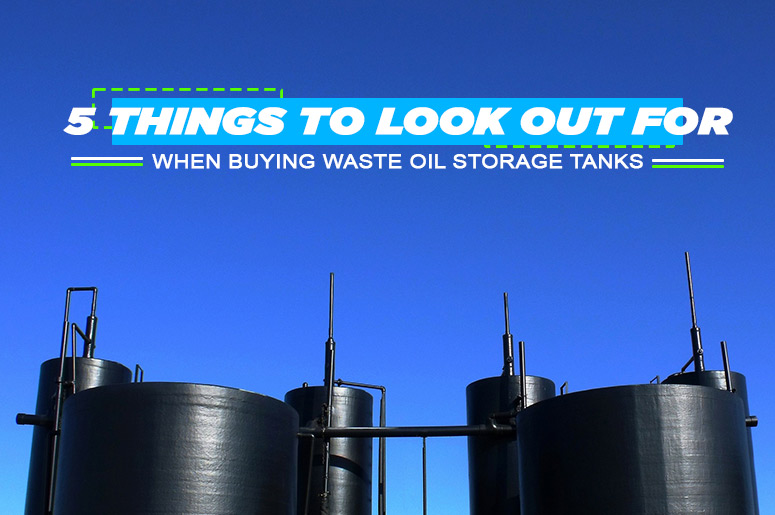 5 Things To Look Out For When Buying Waste Oil Storage Tanks
If you are running a business that requires frequent use of heavy diesel machinery that generates large amounts of used oil, it makes excellent business sense to invest in waste oil storage. Waste oil contains dangerous chemicals that could seriously harm people and the environment. So, ensuring a reliable waste oil storage system is critical. Traditionally, drums are a go-to form of oil storage. However, they are not space-efficient and more vulnerable to extreme temperatures. With regular exposure to heat and water, drums could spill and contaminate the area around them.
Waste oil storage tanks are the best option for keeping used oil on-site. They are specifically designed to store waste oil and are compliant with strict used oil storage regulations in Australia. More than that, they are highly sustainable and effective at reducing the potential for contamination. These tanks can help remove impurities from the oil to preserve its quality, allowing you to recycle it as fuel. However, finding a waste oil storage tank is a serious endeavour that you can't take lightly. Because of the dangers of that improper oil storage presents, you need to find the right one that can adequately accommodate your unique needs. Below are 5 things you need to look for when buying a waste oil storage tank.
1. Drain Valve
A drain valve plays a major role in waste oil storage tank maintenance. It allows easy removal of contaminants and sludge that sits at the bottom of the tank. Consequently, you will be able to keep your oil, as well as your tank, as clean and as functional as possible.
2. Low Fuel Cut-Off Technology
A useful feature for a waste oil storage tank is a low fuel cut-off technology. This feature can detect when fuel runs low and signals the system to immediately turn off. It helps avoid the dangers that could arise from your tank running on low fuel and help you save money and energy.
3. Elevated Fuel Pick-Up Capability
The impurities of waste oil will eventually settle after sitting for some time. With an elevated fuel pick-up apparatus, about six inches above the bottom of the waste oil tank, these impurities will not be reintroduced to the oil. As a result, you'll have cleaner oil to reuse.
4. EPA Seal of Approval
More than useful or fancy features, you need to make sure that the waste oil storage tank has the EPA seal of approval. This means that the tank meets the EPA used oil management qualifications in ensuring the safety of people and the environment. Also, it will help you avoid facing lawsuits and penalties that come with non-compliance.
5. Warranty
When buying waste oil tanks, it is imperative that you ask about a warranty. This protects you from losing money on a product you might not be happy about. In addition, a warranty also suggests that the manufacturer is confident in their products, so you should be too.
Investing in the right waste oil tank is critical in ensuring your business can run optimally at all times. Look out for these 5 things to find the best waste oil storage tank for the unique needs of your company. Beyond these five things, also make sure you find a reputable provider that understands your needs and will help you identify the right waste oil storage solutions.
Partner with WA Refuelling to find the best waste oil storage tank for your business! Our experienced and knowledgeable team can offer you the most viable options for your situation and help you make an informed decision. Moreover, we offer fuel products and services so you won't have to go to different providers for all your fuel handling needs. If you're interested in finding out more about waste oil storage tanks and how WA Refuelling can help you, call us today on (08) 9359 1988.